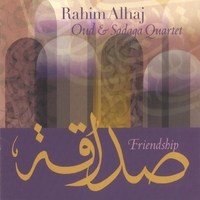 From the label's description of the record:
"...Alhaj is an oud master from Baghdad, Iraq, who studied at the Bagdhad Conservatory and performed with the great Munir Bashir throughout the Middle East and Europe. He is now based in Albuquerque, New Mexico...Alhaj's partners in this current CD venture: Friendship: Rahim Alhaj, oud and Sadaqa Sring Quartet, are a quartet of highly skilled classical musicians joined together as the Sadaqa Quartet...This CD combines the two disparate forces (east and west) in ways that offer a stream of shifting sonic delights without sacrificing the personality of either..."
Normally a description like this would totally turn me off, but this is not new agey, world fusion. This is sublime music of the highest, combining the best in classical styles from both traditions. The melodies are beautiful as is the recording. I would love to see this music performed live.
Download:
Rahim Alhaj - Friendship: Oud & Sadaqa Quartet