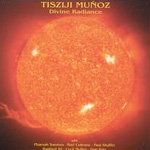 Here's a wild record...Some excerpts from a review on
onefinalnote.com
:
"Guitarist Tisziji Muñoz's music comes right from the heart, with his inspiration drawing directly from John Coltrane's legacy and his spiritual leanings. He also knows how to assemble a potent supporting cast, perhaps the draw of Divine Radiance. This all-star group includes the presence of several Trane associates, including saxophonist Pharoah Sanders and drummer Rashied Ali, alongside special guests like Paul Shaffer (yes, it is who you think it is), bassists Don Pate and Cecil McBee and fittingly, saxophonist Ravi Coltrane. As a player, Muñoz's guitar style favors a choppy, percussive approach. His lines frequently work up quite a lather of repeated phrases and note flurries, hinting at the styles of both Sonny Sharrock and John McLaughlin.

As a whole, the recording is a mixed bag, with some tracks proving to be of interest and others, of questionable inclusion. The program consists of two brief mood pieces as well as three lengthy workouts. The three extended tunes, the most successful here, thrive on the interplay between the assembled cast, especially Muñoz and the saxes...The bass and drum exchanges are magnificent and even Shaffer adds tasty piano licks....While Trane's spirit guides these players, the overall results vary...the session might have benefited from a helping hand to assist with the ensemble's focus."
OK, so that's a decent enough summary, but let me tell you, about 40 of the 60 minutes of this disc are
out
...if the concept of Pharoah and Paul Shaffer on the same record doesn't drive you away, you will be treated to some deep free jazz of major saxophone proportions...grab the whole thing but dig the tracks "Initiation by Fire" and "Divine Radiance"...
Download:
Tisziji Muñoz - Divine Radiance