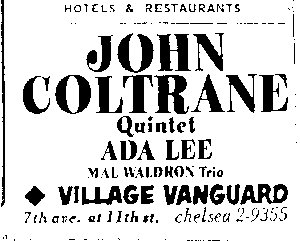 The third of November was also the third of four nights for John Coltrane and his Quintet at the Village Vanguard in New York City in 1961.
The show opens with a peak version of "Spiritual", one of the only two songs to be performed all four nights. Eric Dolphy offers up a beautifully delicate bass clarinet solo followed by a stunning McCoy Tyner turn. Tyner is right inside the groove cooked up by bassist Reggie Workman and drummer Elvin Jones. Much attention is given to the groundbreaking work by Coltrane and Dolphy during these dates but those other three are glorious throughout the run. So in tune. Coltrane follows Tyner for a brief soprano coda.
An interesting bit about this version of "Naima": apparently Coltrane was prohibited by his Atlantic contract from recording the song for Impulse!. Therefore, the careful listener will note the slight modification to the melodic theme on the take here.
A ferocious version of "Impressions" is next. The ensemble is lean, just Coltrane, Tyner, Jones and Jimmy Garrison on bass. Tyner sits out most of Coltrane's soloing, leaving Garrison to keep things moored. Jones and Coltrane are dynamite here.
The other track played all four nights, "India", appears in a unique configuration for the run in that tambura player Ahmed Abdul-Malik is absent. While his Eastern drone was hypnotic and effective on the other versions, he is not missed here. That one exclusion really seemed to clear up the sonic space for the other soloists. Dolphy astounds again on bass clarinet. Tyner, with his lightest touch, subtly, subtly keeps the theme going every few minutes in the background.
Back to the five piece for "Greensleeves" and like the version from
the night before
, primarily a vehicle for Tyner. The pianist is a little disjointed and tentative on this take. His soloing is not as bold and assured as usual. A rare misfire.
The group rebounds as a sextet for "Miles' Mode". Coltrane on soprano, Dolphy on alto, Garrison and Workman on bass with Tyner and Jones. Perhaps being the last song of the third night amounted to something (a more receptive or indoctrinated crowd, perhaps), as the band is not as aggressive as night one but still very adventurous and confident. The audience seems more energetic and engaged as well.
The penultimate show easily represents the best of the two previous: the sharp, intense playing from
night one
combined with a bit more subtlety and emotional range from
night two
. One final night left to listen to and explore. Stay tuned.
Listen to the John Coltrane Quintet live from the Village Vanguard, November 3, 1961. Click to stream the tracks as they appear on
The Complete 1961 Village Vanguard Recordings
.