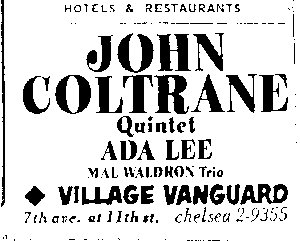 Though there are only two tracks from the final night of John Coltrane's four-night run at the Village Vanguard in 1961, they combine for over 35 minutes of music.
First is "India", which once again features a large ensemble, an octet. As with the versions from the previous nights, Coltrane, Eric Dolphy and Elvin Jones run the table. Jones' drum work is spectacular. The rhythm is kept with a ride cymbal while he plays in and outside with an ongoing spasm of snare and foot work. It is exhausting just listening to Jones keep that pace for fifteen minutes...The horn work, from Coltrane's soprano and Dolphy's bass clarinet is a summation of the previous three nights. Barrages of sound. Only the lightest of comping from pianist McCoy Tyner keeps this track at all tethered. Monster. And at the end the audience is probably the loudest it has been at any point in the run so far.
Fittingly, the stand ends with an epic version of "Spiritual", with Coltrane on tenor, Dolphy on bass clarinet, Tyner, both Reggie Workman and Jimmy Garrison on bass, Jones on drums and Garvin Bushell on oboe. Fitting because it really is the most representative of precipice at which Coltrane stood at that point in time: melodic, harmonious music infused with increasingly modality and exploration as well as cosmic yearnings and aspirations. The enthusiasm of the audience reaction contradicts the popular critical perspective on these shows, that the music was somehow "anti-jazz", too abstract, ugly or confounding. Coltrane and his group blazed new trails over these four nights. If the audience was dragged along at times, at others they followed willingly.
It is hard to imagine the musicians had much more to say after these four nights of varied takes and extended solos. In less than two weeks they would be storming the shores of Europe, opening with two shows in Paris on November 18...
Listen to the
John Coltrane Quintet live from the Village Vanguard, November 3, 1961
. Click to stream the tracks as they appear on
The Complete 1961 Village Vanguard Recordings
.
Read about the entire run here on burningdervish.com:
Nov 3
;
Nov 2
;
Nov 1
.